In The News
Land Investor Features
Volume 7
South Dakota Pheasant Hunting: There's No Place Like It
By Mike Konstant ALC, Designated Broker, Licensed in SD, WY, MT
South Dakota is unique in many ways, and there is a reason it has been dubbed "the land of infinite variety." South Dakota contains more shoreline miles than Florida and the highest point in the United States east of the Rockies. We also have talented artists skilled at carving mountains, and we shoot our state bird–the Chinese Ring-Necked Pheasant. Yes, you read that correctly. And when it comes to the best place to hunt pheasants, South Dakota is it. Each year, hunters in South Dakota harvest an average of 1.2 million roosters. The state boasts around 5 million acres of free-access hunting. This incredible amount of public land access is critical for recruiting and retaining small game and upland bird hunters. Since 1919, hunters from all over have headed to South Dakota for a fall hunt aimed at making memories, telling stories, and cementing traditions that enhance the state's rich outdoor heritage and quality of life. South Dakota is a wing shooter's paradise, bringing families closer to nature while building the next generation of outdoor enthusiasts. And at the root of it all is the pheasant.  
2020 | A Year Like No Other  
For most of us, life during the COVID-19 pandemic has been something we would rather forget than memorialize. If there has been a bright spot in the last year and a half, more Americans have taken up or revived outdoor pursuits. South Dakota's billion-dollar outdoor recreation economy boomed in 2020. It was not surprising that more people flocked to the outdoors during the pandemic, and in South Dakota–and across the country–there was a sharp increase in the number of people who gave hunting and fishing a try. The state's leading wildlife management agency, the South Dakota Department of Game, Fish and Parks, teamed up with the Department of Tourism to launch a robust marketing campaign to showcase South Dakota as the best pheasant hunting destination. The goal was to increase resident and nonresident participation in the state's world-class pheasant hunting. The partnership was born from Governor Kristi Noem's Second Century Habitat Initiative, which focuses on conserving South Dakota's outdoor culture for the next generation of families. The creative part of the plan emotionally connects with hunters (and other user groups) through story-telling, brand awareness, and relevancy while tapping into the user experience.  
In 2020, the two departments made sure hunters knew that South Dakota's outdoors were open and a safe place to recreate. For the first time in the history of South Dakota pheasant hunting, big changes were put into place by the Game, Fish and Parks (GFP) Commission. They modified the start time to allow pheasant hunters to begin hunting pheasants at 10 a.m. CT (9 a.m. MT) for the entire pheasant hunting season and provided hunters the opportunity to hunt for a couple of extra weeks by extending the season to January 31 for the foreseeable future. These extensions provided additional opportunities for hunters and brought South Dakota in line with pheasant hunting states like Nebraska and Kansas that surround the pheasant hunting capital. Many upland bird hunters took note. "That extra time extends the fleeting fall hunting season enough for one last hurrah in the great outdoors," said Kirk Hulstein, avid outdoorsman and South Dakota Department of Tourism's Industry Outreach, Development and Research Director. "My family and I took full advantage of this opportunity as we experienced unseasonably warm days when we are traditionally used to more frigid northern plains temperatures with a snowstorm or two during this time–so this made getting out to the fields easier and more pleasant. Late season hunting is unlike any other time. It is when the hardcore hunters separate themselves from the rest of the pack, and the fields are less crowded. It makes for a great family experience!" 
Other hunters also took advantage of this opportunity, harvesting over 27,000 birds in January alone. 
2021 | The Year of Retention: Hunters and Habitat  
What's next? With 2020 being a banner year for license sales and bird harvest, 2021 will be the year of retention, with an elevated focus on reaching female small game pheasant hunters. This effort will also encourage travel during the fall hunting season while telling a unique destination story through a mix of hunting endemic and programmatic partners to drive visitation and hunting activity to South Dakota. Game, Fish and Parks Secretary Kevin Robling expects to grow pheasant hunting and habitat for years to come stating, "South Dakota is the best place to hunt pheasants. The experience inspires new audiences and outdoor families to take to the fields. Hunting is an important tradition that has enhanced South Dakota's quality of life for generations. Our great outdoors are second to none, and we welcome everyone to start building connections and living out their stories now and in the years ahead."  
South Dakota would not be as unique without all of its habitat–the foundation of wildlife management. Governor Noem prioritized habitat when she implemented the Second Century Habitat Initiative in 2019 to increase resources for habitat management. She also created a separate board to raise funds that generate more habitat across the state. The mission is to advocate for habitat stewardship, collaborate with community partners, and be conservation leaders to benefit all of South Dakota. As Governor Noem has stated, "Habitat is the key for enjoying great bird numbers now and for years to come. We must continue to proactively protect and enhance it."  
With favorable weather conditions over the winter months, we could be in for another record-breaking year as we look to the 2021 hunting season. If Mother Nature continues to be kind through the summer, hunters can expect a great start to the season later this fall. "Because of a mild winter, enhanced efforts on habitat management, and intense predator control through the nest predator bounty program, we should expect fantastic bird numbers for the 2021 pheasant season," concludes Robling. 
What You Can Expect | Check out huntthegreatest.com for all of the details! 
Do-It-Yourself Adventure 
Are you looking for a DIY adventure but aren't sure where to start? South Dakota is home to abundant pheasant hunting lands and opportunities. It can be hard to narrow down where you want to go. Check out the pheasant distribution map to see where the primary range is across South Dakota. The primary pheasant range is in central and eastern South Dakota, though there are pockets of excellent pheasant hunting in the western part of the state.  
Full-Service Experience 
South Dakota is home to numerous hunting lodges and guided hunt opportunities. If you are looking for surefire action, this could be the type of hunt for you!  
License Details 
South Dakota's nonresident small-game licenses are good for two five-day periods. Any license purchased after December 15 is good for the 2021 season as well. If you bought a license and hunted for five days in December or January, your second five-day period could be any time during the 2021 season. Residents can purchase a Small Game License, Combination License, Youth Small Game License, or 1-Day Small Game license. More details can be found at https://gfp.sd.gov/license-types/. 
Season and Regulation Details 
Daily Limit: 

3 rooster pheasants 

Possession Limit:  

15 rooster pheasants, taken according to the daily limit. The limit accrues at the rate of 3 birds a day, and 15 birds may not be possessed until after the fifth day of hunting. 

Open Area: 

All of South Dakota is open to pheasant hunting except the following areas: Sand Lake National Wildlife Refuge in Brown County is open Dec. 14, 2020-Jan. 31, 2021. Renziehausen Game Production Area and Game Bird Refuge in Brown and Marshall Counties, Gerken Game Bird Refuge in Faulk County, and White Lake Game Bird Refuge in Marshall County are open Dec. 1-Jan. 31. 

Shooting Hours: 

10 a.m. Central Time, to sunset all season. Central Time is used for opening shooting hours statewide. 
KEY DATES 
Pheasant Season -Youth Only| 2021 Season Dates Start: Sep 25, 2021 End: Oct 3, 2021 

 Pheasant Season -Resident Only| 2021 

Season Dates Start: Oct 9, 2021 End: Oct 11, 2021 

 Pheasant Season –Traditional| 2021 Season Dates Start: Oct 16, 2021 End: Jan 31, 2022 

 Pheasant Season -Youth Only | 2022 

Season Dates Start: Sep 24, 2022 End: Oct 2, 2022  

 Pheasant Season -Resident Only | 2022 

Season Dates Start: Oct 8, 2022 End: Oct 10, 2022 

 Pheasant Season -Traditional | 2022  

Season Dates Start: Oct 15, 2022 End: Jan 31, 2023 
Are you looking for public access areas? Check out state game production areas (owned by GFP), walk-in areas (private lands leased by GFP), Conservation Reserve Enhancement Program (lands in the James River Valley drainage leased by GFP), waterfowl production areas (federally owned), CHAP (controlled hunting access —private lands leased, but limited, scheduled access), school and public trust lands, Bureau of Land Management federal lands, and state parklands cover most of the list. These lands are ready for hunters to enjoy. Learn more about public hunting access in South Dakota at gfp.sd.gov/hunting-areas or pick up your Hunting Atlas at any local retail/license agent. You can also easily download the maps through the GFP mobile app or other modern mapping software. 
Resident small game hunting license sales beat the three-year average by more than 4,700 for a total of 87,319 licenses sold in 2020. The three-year average for resident small-game hunting license sales was 82,597.  
 SECOND CENTURY HABITAT EFFORTS 
The Habitat Stamp went into effect July 1, 2020, and GFP has been putting these dollars to work. Habitat projects already completed include high-diversity grass seedings, woody habitat improvements, and expanding the Conservation Reserve Enhancement Program (CREP) to provide additional hunting access to more habitat. The Fund Board, GFP, the South Dakota Department of Tourism, Can-Am, and R-R Pheasant Hunting have partnered to raffle off the ultimate rooster chasing UTV. The best part, all proceeds will go to habitat! The price for each ticket will be $100. Details and ticket purchases can be found here: https://apps.sd.gov/gf114super/CanAm. The highest demand licenses in South Dakota are those for bighorn sheep, mountain goats, and elk. Currently, GFP collaborates with private non-profit organizations to offer an elk license raffle and a bighorn sheep license auction. The Hunt for Habitat raffle includes both an auction tag and raffle licenses–with all proceeds going to habitat. Details can be found here: https://gfp.sd.gov/hunt-for-habitat/. In the last two years, the Nest Predator Bounty Program removed nearly 80,000 nest predators. Paying $10 per tail with a maximum payout of $500,000, this program encouraged participants to continue trapping at high intensities during the primary nesting season. 
In a recent interview with Mansion Global, Greg Fay, Founder of Fay Ranches, expounded on the allure of the West. Taylor Sheridan's epic series, Yellowstone, and its spin-offs have people looking westward to wide open spaces. The pandemic brought on the unprecedented and unheard-of buying of ranches out west, sometimes sight-unseen. One ranch, in particular, […]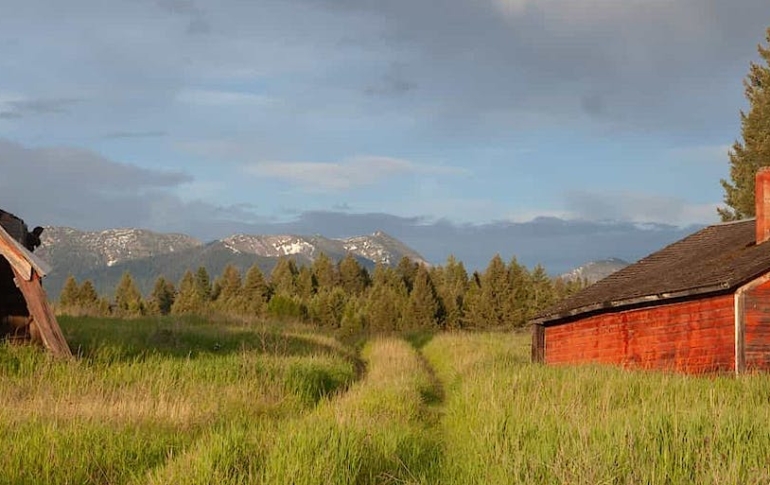 Renovating residential homes has been a hot topic for many years. Television has promoted the process of upgrading real estate through multiple shows across several networks. However, did you know upgrading and renovating farm and ranch properties has also become popular? The rising price of agricultural land has made it difficult for the average producer […]