Seth Johnson
Ranch Sales
Licensed in ID
Seth Johnson is a ranch sales agent in Idaho, where he was raised in a small farm/ranch community. There, he acquired the principles of hard work, do it right the first time, and don't stop until the job is done. Luckily for him, growing up in Idaho was the perfect place for Seth to learn the ropes of ranch life, and master riding horses. Being taught the values of dependability and honesty goes hand in hand with this lifestyle. This is where he also developed his love for the land as a young boy, riding horses in the mountains surrounding his home, hunting, and camping, mixed in with the work of fixing fences, and bailing hay alongside his family.
Wanting the reliance on his own actions and resources, he got right to work building an excavation and construction company in his early twenties. This afforded him unique opportunities and invaluable experience working on property developments, and a great deal about financial accounting, marketing, and the overall skills necessary to operate a successful business. While growing this business, Seth developed a reputation for delivering high-quality projects on time. Seth believes that the only way to build a lasting enterprise is to serve your clients and customers with the highest degree of honesty, integrity, and care.
With the construction company off and running, Seth began a transition into property sales. He immediately found great success, as he was one of the top producers in southeast Idaho the same year he acquired his real estate license. Seth's first-hand experience has given him the knowledge of farming/ranching operations, and an understanding of what many buyers are looking for when purchasing land. His negotiating expertise makes him an untiring advocate for his clients. He has had the privilege of helping people make their dreams of property ownership come true for almost a decade, and has truly enjoyed it.
Seth and his wife, Suzette, live in Inkom, Idaho, where they raised five children. They continue to enjoy living on their ranch, where he does a little farming, with the company of his kids and grandkids. His free time is spent exploring the mountains in Idaho, as well as in neighboring states. His exploring includes camping, hunting, and fishing—but his favorite hobbies take place on the back of one of his horses on a mountain trail, or in an arena chasing a roping steer.
2 Active Properties Listed by Seth Johnson
Chesterfield, Idaho
This Idaho equestrian property provides an exceptional chance to blend a commercial equine training center with an equally magnificent and spacious home. Situated in Chesterfield's historic farming and ranching community, it is a piece of history along the Oregon Trail. The location is the perfect private or commercial equine operation facility. This is a turnkey setup for breeding, training, boarding, riding instruction, shows, clinics, or any form of pleasure or competitive riding.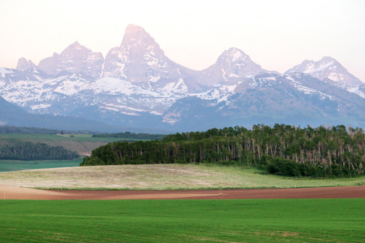 Felt, Idaho
This Idaho acreage paradise presents an array of opportunities for those seeking to engage in outdoor activities or run a small ag or equestrian operation. As there are no structures on the ranch, it can be customized according to your specific preferences. You could plan and build the family compound that you have always envisioned. Additionally, like some of the neighboring properties, it can be placed into a conservation easement to preserve the natural habitat and environment.
1 Listings Sold by Seth Johnson
Sold
Bancroft, Idaho
This Idaho ranch is an opportunity to own a profitable livestock or hay-producing operation and experience everything the Idaho outdoors offers. Bordering the ranch family farms and gorgeous open hillsides cover the landscape. You are greeted by a community where western values run deep. You will get a friendly wave and helpful neighbors. The ranch and area are special and the panoramic views are a place of peace. You will rarely have the opportunity to own a piece of Idaho quite like this.