Daniel Mahoney
Broker Associate
Licensed in MT
Dan Mahoney is a Montana ranch broker specializing in large ranch and land transactions and recreational real estate, including fly fishing, hunting, and riverfront properties. Located in Missoula and servicing western Montana, Dan has proven himself as a top-producing land broker. In the past few years, Dan is credited with over $120,000,000 in sales and has represented a variety of properties ranging from fishing lodges to large working cattle ranches across eleven Montana counties. He brings a high level of passion and steadfast dedication to his clients in every real estate transaction. Dan loves the inherently interesting nature of significant land transactions and the unique challenges that come with them. He prides himself in successfully navigating complex deals while having fun with his clients along the way.
Born and raised in Kansas, Dan moved to Montana in 2002 to attend the University of Montana. While earning a degree in financial management, he cut his teeth as a fly-fishing guide. Prior to a career in ranch brokerage, he spent nearly two decades at the helm of a guide boat plying the rivers of Western Montana with anglers from across the globe. An unwavering dedication to his fishing clients and a contagious love for Montana's landscapes and waterways, combined with countless oar strokes, led to a loyal following of clients and, eventually, his own outfitting business. After a rewarding career on the water, Dan sold his company in 2019 and dove head-first into a real estate career.
Dan lives on the outskirts of Missoula with his wife, two daughters, and a pair of English setters. When he's not spending time with his family or taking his wife and daughters fishing, he can be found exploring the backcountry looking for elk and deer or chasing his bird dogs across the uplands.
10 Active Properties Listed by Daniel Mahoney
3 Listings Sold by Daniel Mahoney
Recently Sold
Polson, Montana
Sunset Vista Cherry Orchard is a breathtaking property situated on the eastern shore of Montana's Flathead Lake. Known for its enchanting high-density cherry trees and stunning vistas, this orchard offers sought-after cherries and unforgettable Big Sky Country sunsets. With expert care and management, it proves to be both a haven of natural beauty and a profitable venture. Enjoy the stunning landscape, embrace growth, and take in the majestic Flathead Lake views at Sunset Vista Cherry Orchard.
Sold
Helmville, Montana
At a private end-of-road location in the upper Blackfoot Valley, this Montana ranch represents an opportunity to own easily accessible, excellent recreational land featuring a number of private and scenic building locations. This private ranch is located minutes from the Blackfoot River and gateways into the Bob Marshall Wilderness. There are many desirable features to this investment-quality land, including its location in a tightly held valley, making it stand out in today's land market.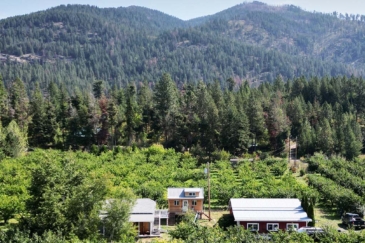 Recently Sold
Polson, Montana
This is a certified organic Montana orchard set amidst the foothills of the Mission Mountains along the east shore of Flathead Lake, an area renowned for producing some of the best high-altitude cherries. It has apx. 485 trees; most are around 30 years old and in full production of Lambert and Lapin sweet cherries that are handpicked each season. The orchard makes money, has a long-term sales history, and has a solid sales distribution channel, giving the brand exceptional notoriety and value.