Kelsea Vaughan
Associate Broker
Licensed in WY, NE
Kelsea is a seasoned real estate professional whose roots are deeply intertwined with the values of the American West. Her unwavering dedication and professionalism are reflected in every real estate transaction, including agricultural, commercial, and residential properties across the scenic landscapes of Wyoming and Nebraska.
Beyond her career, Kelsea wears several hats in life. She thrives as an ardent cattle rancher, proficient land broker, and accomplished artist in the picturesque region of southeastern Wyoming. Here, she dedicates herself to her family and their farming and ranching operations, including caring for cow/calf pairs and a thriving feedlot operation.
Kelsea discovered her passion for assisting clients in achieving their dreams of buying or selling agricultural and recreational land. Throughout this journey, she seized every opportunity to expand her knowledge and become an active community member. Kelsea proudly serves as the Vice President for the North Platte Valley Board of Realtors. She is a member of the Goshen County Cattlewomen and the American Quarter Horse Association (AQHA) and is diligently working towards her Accredited Land Consultant Certification (ALC).
Kelsea's vibrant personality, strong family values, unwavering work ethic, and meticulous attention to detail have endeared her to clients, many of whom have become cherished lifelong friends. Kelsea is honored to be a part of the esteemed Fay Ranches, Inc. team, drawn by their unwavering integrity, sterling reputation, and abundant resources. She looks forward to continuing her journey of assisting clients in making their real estate aspirations a reality, all while celebrating the beauty and values of the great American West.
1 Active Properties Listed by Kelsea Vaughan
New Listing
Ainsworth, Nebraska
The Dillon Ranch, located in Nebraska's scenic Sandhills region, boasts rich grazing grounds, versatile forage production, and water resources. This historic property supports top-quality cattle operations, offers potential for wind energy development, and is a blank canvas for new owners, with potential homesites surrounded by mature trees. With abundant wildlife, upland bird hunting, and nearby recreational attractions, it's an ideal destination for outdoor enthusiasts.
3 Listings Sold by Kelsea Vaughan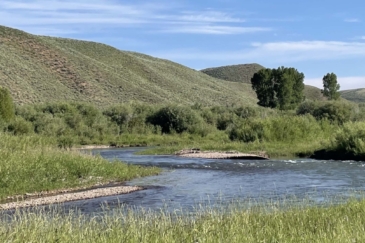 Recently Sold
Cokeville, Wyoming
The historic Wyoming ranch is a timeless family treasure that has been cherished for generations. This exceptional ranch offers a blend of irrigated farmland, improvements, and endless recreational opportunities with the Smiths Fork River meandering through the property. The fertile soil and a reliable irrigation system provide an excellent opportunity for crop cultivation, hay production, and grazing, ensuring the land's continued productivity.
Recently Sold
Lingle, Wyoming
In the center of Goshen County, Wyoming, with sweeping views of the valley, this lovely ranch makes an efficient cattle operation with productive, cross-fenced pastures and ample water throughout. The operation has an owner-rated carrying capacity of 60-70 cow/calf pairs year-round or 5 months of summer grazing with 80 pairs. The ranch offers numerous improvements and two dwellings in Lingle, Wyoming, rich in history and agricultural culture, while providing a beautiful place to call home.
Recently Sold
Yoder, Wyoming
Nestled against the picturesque backdrop of the Goshen Hole in Wyoming, an exceptional opportunity awaits for those seeking a prosperous farming operation or a serene escape in the wide-open spaces of the American West. This expansive farm provides ample space for a variety of agricultural pursuits, from cultivating crops to raising livestock. With 155± acres under pivot irrigation, you'll have the resources to nurture your farming ambitions.