Matt Henningsen
Ranch Sales
Licensed in: MT
Matt Henningsen is a ranch sales agent in Montana. Over the past decade, Matt has managed over a dozen ranches across five western states, administering ranch portfolios for both private equity and private family holdings. Formerly a project manager for Beartooth Capital Partners, Matt executed ranch investment projects at a high level, producing ecological as well as financial returns. Managing family-owned ranches, Matt has a deep appreciation for the emotional investments that families make in their properties, and understands how to communicate their visions. Matt is a graduate of the Ranching for Profit School, and has lived and worked full-time ranching. He is as keen on Animal Unit Months as he is on Assets Under Management.
With extensive experience in agricultural operations, wildlife management, aquatic improvements, conservation easements, and entitlements, Matt has developed a broad knowledge of western ranches, gaining a unique perspective on what makes them tick. Having participated in the acquisition and sales of the properties he has managed, Matt especially enjoys identifying value and helping buyers and sellers find the perfect match.
Matt is from the Midwest, but fell in love with the West as a young boy living in Scottsbluff, Nebraska. After high school, Matt attended the Montana Guide Training Center in northwest Montana, confirming his true passion for the American West. After guide school, Matt moved to Big Sky, Montana, turning the next decade into an adventurous career as a professional big game hunting and fishing guide, both in Montana and Alaska. In 2004, Matt signed on with the then-emerging Yellowstone Club, heading up their horse program. Soon afterward, he developed the outfitting program for the neighboring Club at Spanish Peaks, operating a winter horse-drawn sleigh program and leading summer horse pack trips into Yellowstone National Park. Matt continues to go afield with friends and clients alike, and is a licensed Montana Outfitter with big game, waterfowl, upland bird, and livestock endorsements.
Matt lives with his wife, Julie, and their two children in Bozeman, Montana. Up for any adventure, Matt is an avid skier, hunter, and horseman. Matt enjoys flying as a private pilot and has discovered sailing. But he loves nothing more than camping with his family and cooking for them over a campfire any chance he can get.
1 Active Properties Listed by Matt Henningsen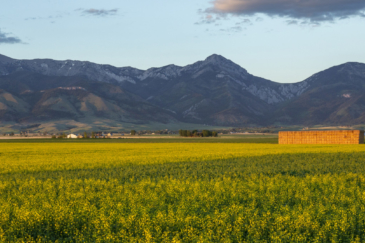 Price Reduced
Belgrade, Montana
This beautiful Montana farming property is an opportunity to own premium farming land offering a private creek within minutes of Bozeman and all its wonderful amenities. A highly desirable piece of property in the north end of Gallatin Valley, it offers incredible mountain views, private creek fishing, some of the best soils for agriculture in the valley, and multiple wildlife species, combining views of 5 surrounding mountain ranges, excellent trout fishing, abundant wildlife, and premium farm ground.