Mike Gatlin
Farm, Ranch, and Luxury Homes
Licensed in ID
Mike Gatlin is a seasoned and accomplished realtor specializing in farm, ranch, and luxury home properties across the stunning landscapes of Idaho. Mike has consistently been recognized as a high-volume real estate sales producer in the eastern Idaho area.
Born and raised in the picturesque town of Sheridan, Wyoming, at the base of the majestic Bighorn Mountains, Mike possesses an intrinsic connection to the land and a deep understanding of the rural lifestyle. Growing up in a family deeply rooted in the cowboy culture and ranching industry, with both a father and brother who served as cowboys for prominent ranches in the greater Sheridan area, Mike developed an unwavering appreciation for horsemanship, livestock, and the captivating world of rodeo.
Rooted in the fabric of the region, Mike's childhood was enriched by hunting upland game and big game animals, cultivating a firsthand knowledge of the local wildlife and their natural habitats. This intimate understanding of the ecosystem was further expanded through his experience working with the Wyoming Game and Fish Department, where a passion for land conservation took root and continues to guide his approach to real estate.
Beyond the realm of real estate, Mike has garnered valuable expertise in the commercial construction industry, serving as a quality assurance/quality control inspector. This background equips him with a unique perspective on property development and construction-related aspects, allowing for meticulous assessments of property potential and value.
An adventurer at heart, Mike has also played a pivotal role in producing and managing a backcountry snowmobile television series, immersing himself in the thrill of the great outdoors and gaining an intimate knowledge of the region's recreational opportunities. This firsthand experience and passion for the natural wonders of Idaho and Wyoming contribute to Mike's ability to identify properties that perfectly cater to clients seeking an active and fulfilling lifestyle.
With Mike's comprehensive expertise, local insights, and genuine dedication to land conservation, he offers unparalleled service to clients seeking their ideal farm, ranch, luxury home, or conservation-focused investment. Through a personalized and attentive approach, Mike goes above and beyond to ensure that every client's real estate journey is not only successful but also an experience that reflects their unique aspirations and deep appreciation for the beauty of the land.
1 Active Properties Listed by Mike Gatlin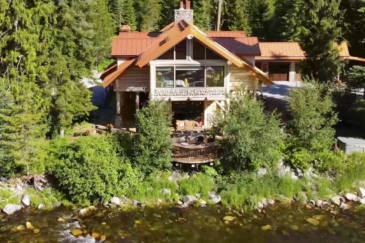 New Listing
Lochsa Headwaters, Idaho
Own a slice of pristine Idaho with this exceptional property on the banks of the Lochsa River. Beyond the expansive picture windows of the log cabin, which seamlessly blends indoor and outdoor spaces, you'll discover an oasis tailor-made for your mountain dream lifestyle. A gated entry and versatile outbuildings offer privacy and convenience. Step outside, and you'll have world-class fishing and hunting right at your doorstep while nearby hiking trails and hot springs are calling to be explored.